Tiger shark attacks surfer in Hanalei Bay
A tiger shark has attacked a surfer in Hanalei Bay, Kauai island, Hawaii.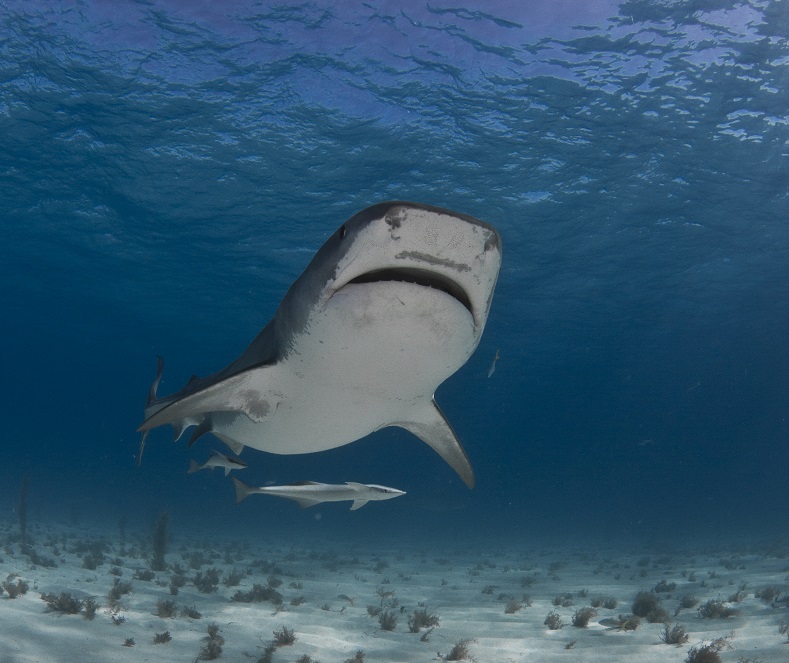 The unidentified man was hitting the waves Feb. 4 in a well-known surf spot called The Bowl.  Just before 1:45 p.m. an estimated 13-foot tiger shark grabbed his leg.
Nearby, Kea Dwight and Chas Weimar had just begun fishing from their small boat when they saw several surfers waving them down.
The duo thought someone wanted a ride back to shore, but realized the group was yelling for help and quickly boated to them.
"When we were going over there, there was like blood in the water and I was like, oh god," witness Chas Weimar told Hawaii News Now. "He was weirdly calm about this," he said, as he explained the victim's attitude. "We were more freaked out about it than him."
"Once we kinda got closer," Dwight said, "there were a bunch of people around him and they were pointing at the guy. We went over to him and he's like, I just got bitten by a shark."
The two helped the man on board and headed into shore where Hanalei lifeguards were standing by with combat tourniquets.
"I would've been much worse if we didn't get him in fast. He put the tourniquet on himself and he was breathing and stuff," Dwight said.
Witnesses said the man had multiple lacerations to his leg, knee and thigh.  He was transported to Wilcox Hospital in serious but stable condition.
Dwight said he and Weimar were in the right spot at the right time to render aid. He said it could have been much worse because it's about a 10-minute paddle back to shore.
This is the third shark attack reported in the United states this year.
Dr. Alvaro Ordonez was bitten by a bull shark off the Florida coast Feb. 2. and Nick Wapner was bitten by a great white off California Jan 8.
The last shark attack bite reported in Hawaii occurred Sept. 9, 2018.
Surfer Juliun Perkins was off Pounders Beach around 6:30 a.m. when a tiger shark grabbed his arm.
"I had both hands on the surfboard and I was looking to my left, and out of nowhere the shark grabbed my arm," he told Tracking Sharks by phone. "I didn't hear any splashing beforehand; I didn't see any fins popping up on the horizon or anything. It just quickly jumped out of the water and got hold of my arm. I turned to my right and saw it on my arm for a split second."
Perkins was aided back to shore by friends and other surfers.
"I'm just glad the shark apparently didn't break or fracture any bones," he said. "My arteries were still intact for the most part. Just my tendons and my nerves were the main injuries."